Here's a tip for first-time event planners, coordinators, and facilitators: seating layouts can affect the impact and success of your sessions. So make sure you use the appropriate physical arrangements for your meeting.
Theater Style
Used for very large audiences where the speaker is the main focus
Participants sit side by side in long rows
Does not encourage note-taking since tables are not provided



Classroom Style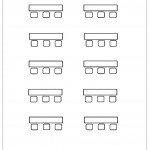 Photo from: http://shakerlibrary.org/services/
meeting-rooms/dietz-community-room/
Same as theater style but with tables
Appropriate for long lectures
Encourages note-taking
Chevron or Herringbone Style
(From http://venuesafari.com/
wedding-seating-tables/)
Chairs are arranged at an angle
Encourages interaction among participants
Facilitates viewing of visual presentations
Most dynamic of all the seating arrangements
Hollow square or rectangle
http://www.thousandhills.com/meetings-and-events/
branson-conference-facilities/branson-meeting-room
For meetings where hierarchy is not an issue
Excellent for facilitator-led meetings
Encourages audience participation
Awkward to use when showing visuals.
Boardroom
Very good for groups between 6 and 15.
Suggests formality and hierarchy.
For groups over 15, people at the far end table may feel left out and form a separate group.
Perpendicular
Seats can be on either outside or inside of tables.
Instructor can survey students' work.
Facilitates easy exchange between presenter and audience.
Center may be used for exhibits or demos.
U-shape
Encourages collaboration.
Center area may be used for simulations and role plays.
Can be used with or without speaker table.
Semi-circle or circle
Can be set up with or without tables.
Presenter's role is minimal.
Excellent for sharing or reflection sessions
Encourages a sense of group and bonding.
Cluster
Good for presentations with breakout groups.
Clusters easily return to being a single group.
Tables can be either round or small rectangles.

Staff at the Tagaytay Retreat and Training Center will be glad to arrange the chairs and tables in your function room according to your need. Simply provide them with the number of expected attendees and the seating arrangement you need.